Modifications of user preferences cannot be applied on an on-going study that is, after the data import.
To apply new settings on a study, go back to data import view, modify and save user preferences.
User settings
Cnpk formula: Cnpk are calculated from percentiles based on the smooth curve (SMOOTH) or on data (FRACTILE).
Cp confidence interval: Confidence level for the Cp/Cpk confidence interval.
Normality alpha level: alpha risk level for the normality test.
Force normality: If YES, all results which depend on the normality test conclusion are performed assuming a normal distribution.
OOS unit: Observed/Expected Out Of Specifications (OOS) are in percentage (PCT) or in part per million (PPM)
Show Control Limits: If YES, Control Limits are displayed on the Individual Control Chart otherwise they are not displayed.
Precision: Precision of the format to display nicely results
Cp decimal places: Number of decimal places to round capability indices
Capability thresholds: thresholds for capability conclusion on C(n)pk in the report. Thresholds are rounded with the number of decimal places defined in
Cp decimal places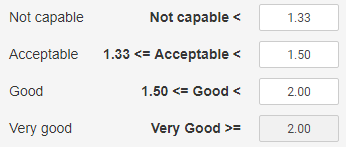 Modify settings
Before starting a study, user preferences may be modified.
Click on your name in the upper right corner of the browser window.
Click on
Check the box to activate the settings modification and modify values.
Click on
Tip: You do not have idea on settings or a procedure that offers them, keep default settings.
Apply default settings
Click on your name in the upper right corner of the browser window.
Click on
Click on Reset defaults to apply default settings.
Click on
Note: The default preferences are the following:
Cnpk formula: SMOOTH
Cp confidence interval: 95
Normality alpha level: 0.01
Force normality: NO
OOS unit: PCT
Show Control Limits: NO
Precision: 4
Cp decimal places: 2
Cp conclusion threshold

Not capable: 1.33
Accepetable: 1.50
Good: 2.00